Born and educated in the sedate southern counties of England, Amanda Lawrence was blessed with pioneering parents who regularly bumped her down the primitive highways and byways of continental Europe. The Quercy was always a favorite halt, slowly working its charms on her until she finally succumbed. Its now where she lives and works as a writer and journalist, overlooking the famous Cahors vineyards.
[audio:http://winemailserver.com/mp3/12Amanda.mp3|titles=White Stone Black Wine]
Olivier GEFFROY is an enologist and agronomist, in charge of the communication for the French Wine and Vine Institute, a research center in viticulture and enology located in the South West of France. For 3 years, they have been studying the possibility of producing premium rosé wines from Malbec and the way to optimize the aromatic potential of this variety. According to him, Malbec is definitely a great variety to produce some rosé wines. Who doubts it ?'
[audio:http://winemailserver.com/mp3/11MalbecRose.mp3|titles=Olivier Geffroy on Malbec Rosé]
Tim York would describe himself as "a retired financial executive living in Belgium with a long term interest in wine, classical music and dogs" but he's an active and widely-read poster of tasting notes on forums. We asked him about his longtime interest in the Malbec grape and Cahors wines.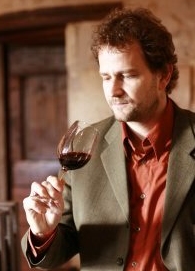 Philippe Lejeune is the owner of Château CHAMBERT, a vineyard of 60 hectares
with a long history of nearly 1,000 years. Very ambitious for this gorgeous
vineyard located on the very top plateau of the Cahors area, Philippe
Lejeune aims at becoming a leader of the appellation leveraging the Malbec
grape from mature vines and a great terroir. Wine consultant Stéphane
Derenoncourt is instrumental in this quest to excellence.
[audio:http://winemailserver.com/mp3/09Lejeune.mp3|titles=Philippe Lejeune, Malbec, International Player]
David Cobbold is a British wine consultant, writer and educator, living in France. He started working in the wine trade in 1983 and created his firm, Connaître et apprécier, in 1996. He currently co-hosts a radio show, In Vino BFM, contributes regular articles to magazines and is the author of several books on wine.
David Cobbold tells us why Cahors gives malbec a special accent and why it is good to see a French appellation being creative and innovative.
To learn more about David Cobbold: Connaître et apprécier
[audio:http://winemailserver.com/mp3/08Cobbold.mp3|titles=David Cobbold Interview]

Philippe Faure-Brac won the Best Sommelier of the World Award in 1992. Today Philippe Faure-Brac is as attentive as ever to his restaurant, Bistrot du Sommelier in Paris and is a regular contributor of articles, writing in various magazines. He is also a member of the tasting committee of the "Wines of France" magazine. He takes part weekly in an emission of radio on BFM called "In Vino".
During a tasting of Cahors wines organized at his restaurant, he talked to us about Cahors wines, their qualities and specificities.
[audio:http://winemailserver.com/mp3/07Faure.mp3|titles=Philippe Faure-Brac on Cahors and Food]
In 2000, Luc Luyckx and Marc Van Antwerpen, two Flemish winemakers passionate about Cahors wine, took over Château Fontaynes and renamed it Château Famaey. Luc Luyckx talks about his adopted land and the Malbec grape he uses to make his wine.
For more details on Luc, Marc and their work at Chateau Famaey, discover their web site.
[audio:http://winemailserver.com/mp3/06Flemish.mp3|titles=Flemish WInemaker in Cahors]
Co-authors of two great books on wine, Wine & War and Champagne, Don and Petie Kladstrup compare today's Cahors Malbec with that of the past and Argentina's Malbec with that of Cahor in this post Cahors tasting interview.
Petie Kladstrup writes about life in Normandy in her blog Petey Femayle.com. Don Kladstrup is working on a short fiction podcast to be available soon on a network near you.
[audio:http://winemailserver.com/mp3/05Kladstrup.mp3|titles=Don and Petie Kladstrub talk Cahors]